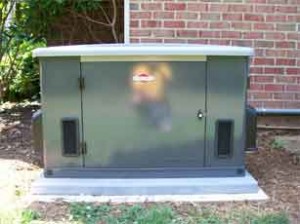 Call Us for a Turnkey Installation
generators are our business
not a part of our business
Generac Guardian series, or GE (general electric) Automatic Home Standby Generators manufactured for NEVER DARK can be installed during new construction or retrofitted into existing residences and businesses.
We come to your home for a free site survey. We go over generator placement for your site, and look at the electrical loads in your home to match your needs as well as your budget. With a turnkey contract, no extras or things not included hidden like most other companies. If there are costs to be added such as gas meter upgrades that have to be done by your gas company, etc. you will be informed so there are no surprises.
We take care of all coordination of the gas, building permits, inspections, etc.
We show up for the installation with your generator and the NEVER DARK crew. ( we never use sub contractors)
We carry everything on the truck that we could possibly run into, saving you valuable time. Generators are our business, a typical installation is done in only one day.
We do your start-up including load calculations, checking and adjusting your voltages and frequency.
We check all the safety features built into the system
We show you how the system works including running a simulated power outage.
We show you how the exerciser/test cycle is set and how it works.
We activate your generator and warranty at the start up, insuring full warranty coverage.
You will be asked to follow along with a installation check list assuring that your installation was done to your satisfaction and that everything has been explained to you and you have a complete understanding of your system, You will be asked at the bottom to leave comments on your installation crew as well as your overall experience with NEVER DARK, or any comments on how we could do better.
Then we will set up a day of your convenience for you city or county final inspection.
NEVER DARK is there for you after the installation with any and all service or warranty work. We are your factory authorized elite dealer. In the unlikely event there is a problem with your generator you only have to make one phone call to NEVER DARK. We supply all the labor and parts, and are paid directly by the factory. You will never see a bill from a warranty issue for 5 full years.
NEVER DARK has preventative maintenance agreements available to make sure your generator is always in top running condition ready for the next outage as well as to protect the longevity of your generator system.
One call does it.
We do everything from start to finish!