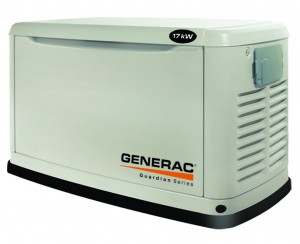 We sell only Guardian,  Briggs & Stratton, and General Electric (GE) automatic standby generators. The top 3 brands in the USA. We meet with you to customize a generator that best fits your needs, as well as your budget. We give you a turnkey price, with no hidden costs.  This allows us at NEVER DARK to help keep your home, belongings, and family safe during a prolonged power outage.
We are the contractors. We do it all from start to finish, no need to deal with 3 or 4 contractors. You work directly with us .We come out to your home for a free, no obligation site survey to give you all your options from providing back-up power to the whole house, or to just essential circuits, such as water, heat/AC refrigerator, lights etc. and it's installed just as promised by NEVER DARK. a typical installation only takes one day, saving you valuable time. Generators are not a small part of our business like most electricians. GENERATORS ARE OUR BUSINESS. We have installed hundreds of systems.
We are the only ELITE dealer in the area. ELITE means factory trained technicians on staff, as well as most parts in-stock. Anyone can sell you a generator, but you need service and warranty after the sale. We are your local factory authorized warranty dealer. As your Guardian or Briggs & Stratton generator is there when you need it, NEVER DARK is there for any type of service work that might need to be done. We want you be sure that when you are in need of your standby power, you and your family are NEVER DARK.